We often associate the internet with development and progressiveness but somehow the archaic notion of 'locker room talk' finds its place here too. The locker room is a private space provided to men by men where they could (potentially) trash talk, physically objectify women and degrade them by passing lewd comments. And where they're allowed to get away with it. As a concept, locker room talk has been around for a while and we just went with it, since this space is deemed essential for men to 'let off some steam'.

As the events of 'Boi's locker room', a chat group on Instagram, have unfolded over the past few days, a lot of light has been shed on several problems that we as a country were under the false impression of having left behind. Boys ranging from 15-18 years of age shared pictures of underage girls and passed comments that either directly suggested or insinuated sexual violence against the girls.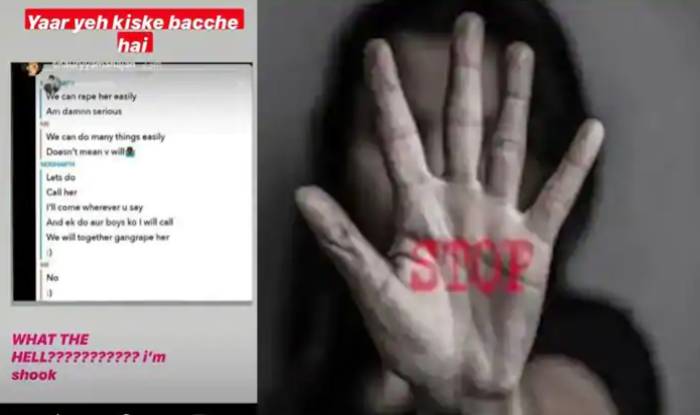 After the chat group was exposed via a whistleblower, the internet went into a mass frenzy whilst the story became viral. Allegedly, most of the participants of the chat group go to prestigious educational institutions and hail from well off families. We have always blamed the lack of education for the state of public discourse and opinions regarding women in India. Not only have we failed to resolve the mistreatment through education but somehow these evils and immoral ideas have infiltrated the structure of education and weaved themselves within it. We live in a time of rapid dialogue about rapes crimes, unequal pay, and feminist movements, and the group of boys that we are dealing with in this case belongs to a class that is in the mids of this whirlwind opinions and discussion.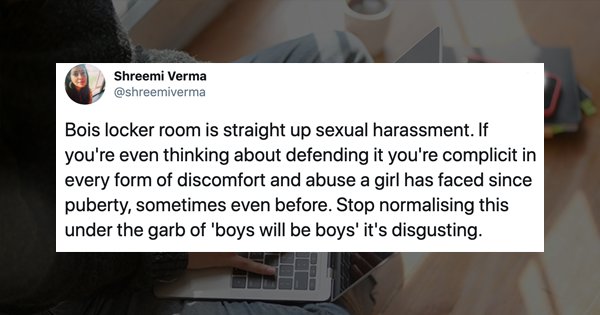 There is a set of counterarguments that we should tackle to understand the implications of such incidents. The first of them being that the members of the chat group were 'just talking' and not causing any harm. The pictures and videos shared in these groups were private and not consensual. Not to forget a lot of the victims were also under the age of 18. Even if no physical harm was caused, there was blamant invasion of privacy and trauma caused by it. Plottings of gang rapes also show an intention of causing harm. The language used in these groups forms the very basis of rape culture. They cultivate views and opinions about various genders that only can become more rigid transitioning into adulthood.

Throughout history, we've tried to reason as to why the degradation of women has prevailed for so long. And that is the same issue we find ourselves dealing with at this very moment. Where did we go wrong? And this time around, we may have managed to hit the bullseye and figured it out. It is the constant excuses we make for men who indulge in such behavior. After all, boys will be boys.

Why is it excusable for them to use random women as a medium to relieve their sexual frustration? And just how hard is it to understand that minors are off-limits? There is no possible reasoning behind the twisted fantasy of sexualizing and objectifying a 14-year-old's body. Regardless of their gender.
We've also witnessed arguments that locker rooms are not unique and have always existed. A gross attempt at trying to normalize sexual misconduct and sexual remarks. These were not and cannot ever be just innocent acts of speech, because when the value of an individual's existence is cut down to their physical attributes, the intention behind it is a man's approval on the physical utility of the person. Treating them as a mere object, hence the term objectification.

Instagram's Boi's locker room case specifically is very important in the discourse around India's rape culture because of the age group we are dealing with here. The defense that young boys don't know any better and they haven't yet committed any actual crime to hold them liable for is the deeprooted problematic attitude that sexual violence stems from in India. In discussing rape culture, we don't concern ourselves with the act of rape and assault solely. And this is distinctive to this nature of crime since such a culture of rape is a product of years patriarchy and toxic masculinity.

The problem here is the thought that one individual finds that sexual assault and abuse is a power they hold over another individual. The thought that one's honor resides in their genitalia. Therefore, men are not the problem here. It is any being who has been seasoned with such notions. Women who objectify men or defend men's right to locker room talk are part of the problem as well.
On Monday, the Delhi Commission for Women took suo moto cognizance of the case and sent notices to Delhi Police and Instagram demanding action to be taken by May 8. On Tuesday, a 15-year-old boy was taken into custody by Delhi Police Cyber Cell and 10 other members of the infamous group were identified. The boys will be called for questioning sometime in the future.
While the case of Boi's locker room started with one problem, the radical reactions to it have snowballed into several different issues. False accusation of sexual misconduct to the abuse and namecalling suffered by innocent men and young boys. Our best bet here is to hope for justice to take its due course. People demanding severe and excruciating punishments for 16 years old need to realize that the justice system is not an instrument to attain revenge. Instead, to hold the criminal accountable and reprimand accordingly.