Akkai Padmashali is a cis-gender male, who chose to become a woman. Akkai's life of challenging social norms and fighting for rights and acceptance makes for an inspiring read.

Akkai was born in a middle-class family in the city of Bangalore, India as a biological male. Her parents named her Jagdeesh at birth. As with most Indian transgenders, Akkai's childhood was one of confusion, and suppression. She was forced to grow up as a boy, often inviting her parents' anger when she'd dress up as a girl using her sister's dresses. Her parents took her to traditional healers and local doctors in hope of curing their child.

In the confusion to understand her feelings and emotions - in the deepest void of loneliness at the age of 12, Akkai tried to kill herself. After almost four years, she revealed the reality to her brother who subsequently became the first person in her life to accept her as she is. Her brother even tried to convince their parents, but they believed that she will change.
When she was a teenager she met few transgender women in a park on her way to college in Bangalore. Once she dared to disclose her identity dilemma to them. They told her not to be like them else she'd end up with a life of begging and prostitution. But sway her they could not, for she had seen that there was in fact a way to live an honest life - honest about her gender, honest about her identity.
As the women predicted, Akkai ended up having to offer herself to men in the same park in Bangalore for money. Akkai lied to her parents, saying that she was an office assistant at a private company. For four whole years, sex work had become her life. But rock-bottom made her realize something important - that she was not the only one, that there were many like her, who shared her pain, her sorrow and her shame.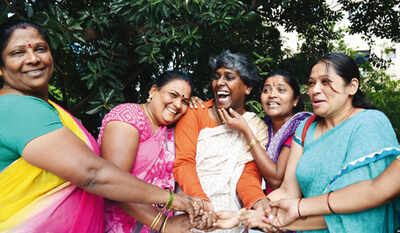 Motivated to start working for transger rights, Akkai joined a local NGO named Sangama, working with sexual minorities. Her agenda was to join fight against sexual violence that people like her faced every day. Working with Sangama helped her realize the importance of socially informed and inclusive policies, as well as educating policymakers and the judiciary about the issues and problems faced by the sexual minorities. Section 377 of the Indian Penal Code was used to criminalize sexual activities 'against the order of nature', making consensual sexual acts between the two people of same sex punishable. Even though India would legally recognise transgenders as a gender identity, their sexual orientation would make them come under the purview of section 377. As a result, transgenders used to find themselves rejected and vulnerable. Akkai has spent a good portion of the last few years fighting against draconian and regressive laws such as this.
Akkai couldn't complete her education but was near fluent in English. She was invited by the President of India to attend the swearing-in ceremony of the Chief Justice. She was invited to talk about the legal rights of sexual minorities in a conference held at Tokyo in 2014 by the International Bar Association. "Ondede" is an organization founded by Akkai which works on creating awareness about sexuality, sexual diversity and the right to choose one's sexual orientation.
Akkai married her husband, Vasudev, on January 20, 2017. Vasudev himself is a prominent LGBTQ+ activist and runs a laundry service in Magadi. Recently, their marriage was registered official in Bangalore and it is the first transgender marriage registration in Karnataka so far.

It is due to pioneers and fighters such as Akkai that in a landmark judgment, India's supreme court decriminalised same-sex relationships on the 6th of September, 2018.